Proxy Download
Charon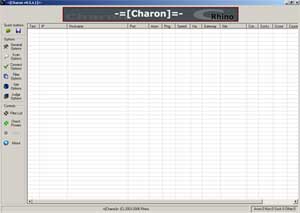 Charon is free proxy tool servers analyzer program that includes a tester to check proxy anonymity and functionality. It has incorporated a customisable filters for eliminating suspicious IP ranges, automatically searching function that search search engines for publically posted proxy lists, function to importing proxy list directly from web and function to examine ports and ip ranges for more proxies . Very easy, fast and one of the best program for proxy server.
Homepage:
http://www.project2025.com/charon.php
Direct link to download:
http://www.project2025.com/Charon.zip
---
---
ProxyRama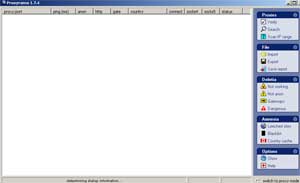 Proxyrama is a free proxy tool (freeware) for hunting, testing proxy servers and proxy download. It will test them for anonymity, speed, see of they are gateway proxy, connect method support (=chainability or SSL proxy), socks 4/5 support and geographical location. Furthermore, it lets you surf through chained proxies and let's you skip images, multimedia, ads, popups etc. It is small, fast, and easy to use and you can minimize proxyrama to the systray now.
Homepage:
http://gaamoa.deny.de/
Direct link to proxyrama download:
http://gaamoa.deny.de/ProxyramaSetup.exe
---
---
TOR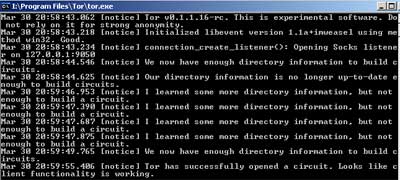 Tor is a toolset for a wide range of organizations and people that want to improve their safety and security on the Internet. Using Tor can help you anonymize web browsing and publishing, instant messaging, IRC, SSH, and other applications that use the TCP protocol. Tor also provides a platform on which software developers can build new applications with built-in anonymity, safety, and privacy features.
Tor aims to defend against traffic analysis, a form of network surveillance that threatens personal anonymity and privacy, confidential business activities and relationships, and state security. Communications are bounced around a distributed network of servers called onion routers, protecting you from websites that build profiles of your interests, local eavesdroppers that read your data or learn what sites you visit, and even the onion routers themselves.
Homepage:
http://tor.eff.org/
Direct link to download:
http://www.vidalia-project.net/dist/vidalia-bundle-0.1.1.21-0.0.5.exe
---
---
Freecap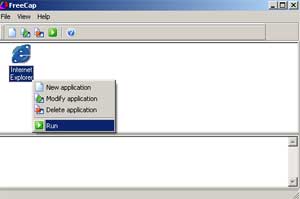 FreeCap -- is a program for transparency redirect connections from programs through SOCKS server. In fact that some programs hasn't native SOCKS support (for example Internet Explorer), In this case FreeCap will be helpful, transparently redirect all connections requests through SOCKS server.
Homepage:
http://www.freecap.ru/eng/
Direct link to download:
http://www.freecap.ru/files/freecap_nosetup_eng.zip
---
---
MultiProxy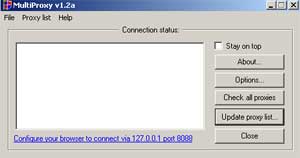 MultiProxy is one of the simple, easy and effective proxy tool. It is a multifunctional personal proxy server that protects your privacy while on the Internet as well as speeds up your downloads, especially if you are trying to get several files form overseas or from otherwise rather slow server. It can also completely hide your IP address by dynamically connecting to non-transparent anonymizing public proxy servers. You can also test a list of proxy servers and sort them by connection speed and level of anonimity. MultProxy listents on port 8088 by default, so you will need to configure your browser to connect to Internet via proxy server at address 127.0.0.1 (localhost) and port 8088. You can change the port number from options dialog box. If you want other computers on your LAN (without Internet access) to connect to Internet through MultiProxy, you need to enter the actual IP address of the computer where MultiProxy has been installed (instead of 127.0.0.1). You can find out the computer's IP address by running winipcfg.exe (via Start|Run from Windows taskbar, for example). MultiProxy is Freeware
Homepage:
http://www.multiproxy.org
Direct link to multi proxy download:
http://www2.multiproxy.org/mproxy12.zip