ProxyServerPrivacy basic proxy detector analyze HTTP request that your browser (IE, Firefox, Opera, Netscape etc...) send to the website and try to find common proxy server variables. Nowdays is easy to find open and free proxy server.
This basic free proxy detector can't detect any high anonomous proxy (so called Elite proxy or common name from ProxyJudge script is Level 1 and Level 2 proxy) that does not send common proxy variable.
Every time when you surf Web ( through proxy server or not) your browser send information (HTTP request) and let web server know about what kind of page, files etc... you want.
Every web server need that information in orde to communicate. Web site may get following informations that your browser send about you:
IP Address - HOST Address
Referer (to tell browser where HTTP request come from)
Language
Your Browser
What type of OS you are running (Windows XP, WIndows 98, Windows 95 etc)
What kind of informations your browser accept
Type of connection (keep-alive or close)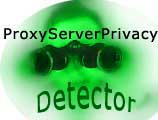 Typical proxy server HTTP variables are HTTP_VIA (most common), PROXY_CONNECTION and X_FORWARDED_FOR.
Transparent proxy
(proxy that spill your real ip address. Level 5 proxy as defined by ProxyJudge script) add to HTTP header variables that are unique to proxies and presence of X_FORWARDED_FOR variable can determined your original ip address.
Anonymous proxy server
(Level 3 and Level 4 proxy as defined by ProxyJudge script) lack the X_FORWARDED_FOR. Your own ip address can not be determined but presence of proxy variable tell the webserver that you use proxy. Another common element that can identify user behind proxy server in most cases is the presence of connection type "close".
Elite proxy server
(High anonymosu proxy server. Level 1 and Level 2 proxy as defined by ProxyJudge script) does not send any of proxy variables described afore and it is undectable with basic proxy detector.
Below are informations our web server received from your browser:
ProxyServerPrivacy free detection
Your Ip Address:
18.207.160.97
Host:
ec2-18-207-160-97.compute-1.amazonaws.com
Your Country:
Proxy HTTP_X_FORWARDED Variable:
(none)
Proxy HTTP_VIA Variable:
(none)
Proxy connection variable:
(none)
Your Browser:
CCBot/2.0 (https://commoncrawl.org/faq/)
Type of Your connection:
Keep-Alive
Your language:
en-US,en;q=0.5
Accept:
text/html,application/xhtml+xml,application/xml;q=0.9,*/*;q=0.8
Accept-Encoding:
br,gzip
Referer - HTTP Request come from:
(none)
Your Port:
42358
Conclusion after analyzing with basic proxy detector:
Your Ip Address 18.207.160.97 does not send typical proxy variables. You are not behind proxy or you use Elite proxy (high anonymous proxy)